Travel is now, more than ever, a precious part of our lives. At Diethelm Travel, we're dedicated to meeting the "new normal" of travel and ensuring all our guests, staff and suppliers stay safe with renewed optimism for travellers to visit our Asian destinations.
We've implemented the following enhanced hygiene measures in response to the global pandemic to reassure guests as part of our new 'Book with Confidence' policy.
This policy applies to all Diethelm Travel operations, including appointed third party supplier partners and personnel acting on behalf of the company, and marks the standards we're enforcing across all Diethelm destinations with additional measures followed as necessary.
For the safety and security of all guests, we always recommend travelling with a local guide to ensure expert guidance on not only the best travel experiences but also adhering to local and national practices. When travelling with us, your clients can rest assured that their safety is our number one priority.
Enhanced Health & Hygiene Protocols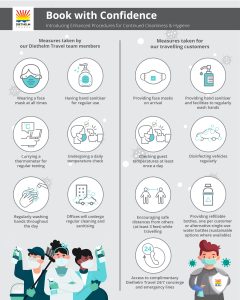 Ongoing Support & Safety
The measures listed above will apply to all bookings/enquiries made with Diethelm Travel until otherwise announced.
With these added measures and regularly changing local restrictions, please note that additional time may be added between trips to ensure all hygiene practices are met. Larger travelling groups will also be assisted with further measures as required to ensure additional confidence while travelling.
We are continuing to monitor trusted sources and governing authorities at a local, national, regional and global level to ensure that our practises meet international safety standards for all involved. As the best practices and impact of the global pandemic continue to unfold, we will adjust our standards accordingly.
It is also always recommended for travellers to check recent updates from their country's embassy as well as the destination's they're visiting to ensure all certification and medical advice is met before travelling.
Please note: Additional measures and procedures placed upon customers by other travel partners such as hotels, airlines, seaplane transfers or any other third party suppliers working with Diethelm Travel will be communicated at time of booking and will be treated separately and supplementary to the above policy.
Even more ways to book with confidence